> Home > What to visit > Old Town
Scrofiano
Sinalunga
OLD TOWN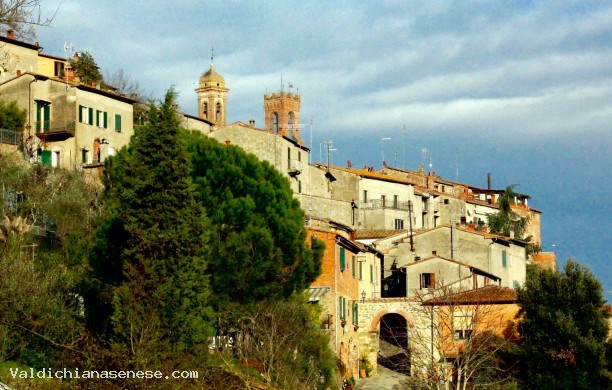 The origins of the "current" agglomeration of Scrofiano are to be found around the year 1000, even if its name may have a Lombard origin, suggesting an even earlier origin.

Only from the sec. XII, more precisely from 1177, there is documented news of Scrofiano in relation to the presence of the Cacciaconti family, the noble Lords of Asciano and owners of all the castles in the area. Like the other municipalities in the area, Scrofiano became part of the Republic of Siena, after the gradual war and commercial conquest of all the territories of Scialenga.
Once the conquest of the castle was consolidated, the Sienese built the first circle of walls in the entire village, in 1271. The walls were subsequently rebuilt and enlarged, after the devastation that Scrofiano suffered in 1323, by the company of Deo Tolomei, who rebelled against the Sienese Republic .

Around the first half of the 1400s, Scrofiano was the scene of a victorious battle between Sienese Ghibellines and Florentine Guelphs. This undertaking is remembered annually in the local Church of San Biagio, with a ritual religious celebration.

As testified also by Leonardo da Vinci, with the construction of a plant of the Val di Chiana in 1502, Scrofiano was not subject to the medieval and Renaissance swamp of the Chiana.

In 1554, the Florentine troops of the Medici, allied with the army of Charles V, during the campaign of definitive conquest of the Sienese Republic, besieged and conquered the castle of Scrofiano, destroying its walls.

On 2 June 1777 the Municipality of Scrofiano was annexed to the municipality of Sinalunga by order of the emperor Leopoldo II, Grand Duke of Tuscany with the name of Pietro Leopoldo I.

The village of Scrofiano still retains a medieval urban structure. In fact, there are still well preserved: the Torre del Cassero dei Cacciaconti (XII century), the Town Hall (XIV-XV century) and its other important churches: the Collegiate Church of San Biagio (XIII century) and the Company Church of San Salvatore.
STAY

NEARBY
DINING & ENTERTAINMENT

NEARBY