> Home > What to visit > Churches and Monasteries
Abbazia e chiesa della Santissima TrinitÓ di Spineto
Sarteano
CHURCHES AND MONASTERIES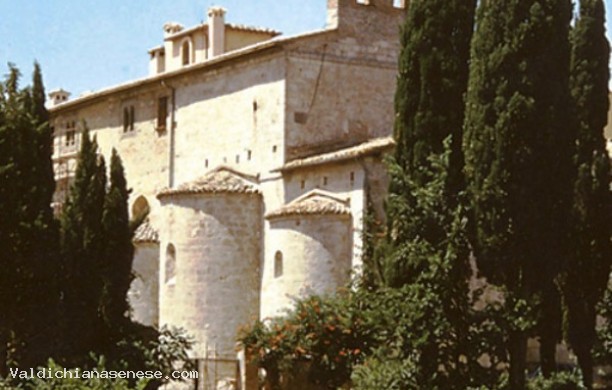 PHONE NUMBERS AND TIMES

Abbazia e chiesa della Santissima TrinitÓ di Spineto


Business card (vCard)
Founded in 1085, in 1112 was entrusted to Vallombrosani and in 1627 to the Cistercians who remained there until its suppression in 1786.
The Romanesque church has the typical plant Vallombrosan: a nave roof with views, large transept arms covered by cross vaults and three apses inserted into the end wall. At the intersection of the nave and transept is inserted a small dome, externally protected by a four-sided lantern.
The fašade, with an eighteenth-century portal, is clad in limestone ashlar clear. The only decorative elements are carved figure of a quadruped within a bezel of the transept and two animals with low relief, carved into the facade. Inside, the canvas of the "'Madonna del Buonconsiglio."
The abbey dates back to 1085 and is an example of monasticism Italian and Tuscan. The place is in a secluded yet convenient location, which extends between Val di Chiana and Val d'Orcia.
The architectural shape, independent and closed on the outside, despite the transformations through the centuries, stands still imposing, isolated in the middle of a rural landscape.
The central Middle Ages is the period of monasticism: monasteries and abbeys bloom everywhere. Alongside the feudal nobility, especially in Tuscany you create the feuds religious flourishes agriculture and handicrafts, is realized as a model of spiritual and civil government embodied by the order Vallombrosano observing the Benedictine Rule. Life in the territory of Spineto takes place peaceful, devoted to religious works, to agricultural activities. The constant struggle between the feudal lords, however, affect in any way the abbey.
Sponeto is first placed under the protection of Orvieto (1120), then passes under the protection of the Republic of Siena until its fall and its incorporation in the Duchy Medici of Florence.
Despite the political turmoil, the heyday of the abbey is among twelfth to the fourteenth century and the need for preservation of its assets is ensured by an armed garrison and the strengthening of the defensive structures of the monastic complex.
In 1627 Pope Urban VIII removes the Abbey Vallombrosano order er entrust it to the Cistercian Order. It is on this occasion that the Pope gives the church a precious cope Spineto that there is still preserved.
The Abbey remains under the Cistercian order until its abolition which took place in 1783. It is then transformed into a farm run by lay brothers and his property shall be forfeited in the equity of the Foundling Hospital in Florence.
In 1830 the Abbey became private property.
STAY

NEARBY
DINING & ENTERTAINMENT

NEARBY