> Home > Where to stay > Agritourism
FONTEVETRIANA
Sarteano
AGRITOURISM 1 EAR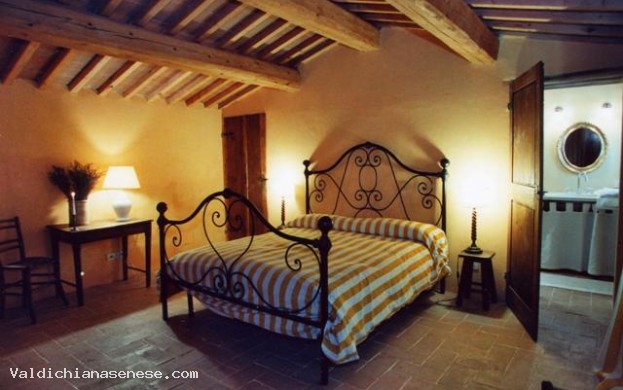 * Required field
DO YOU WANT MORE INFORMATION?

Call our Call Center at
Tel. - Fax

Website
www.fontevetriana.it
SERVICES
ACCETTAZIONE ANIMALI DOMESTICI
CORSI DI CUCINA O ARTIGIANATO LOCALE
DEGUSTAZIONE PRODOTTI AZIENDALI
PISCINA SCOPERTA
TRASPORTO CLIENTI ALLA STAZIONE
TREKKING
VISITE GUIDATE
LAVATURA E STIRATURA BIANCHERIA
BABY SITTING
RISCALDAMENTO INVERNALE
PARCO O GIARDINO
MASSAGGI
SOMMINISTRAZIONE BEVANDE O MINIBAR
PARCHEGGIO RISERVATO
STRUCTURE DESCRIPTION

" Fontevetriana is a farmhouse situated in the heart of the real Tuscany, in the province of Siena. Our agritourism is an ideal destination for those desiring a relaxing and revitalising holiday ".
Do you wish to live in close contact with nature, delight your palate with genuine food, accompanied by the best Tuscan wines (top of the list, Vino Nobile of Montepulciano and Brunello of Montalcino)?

Do you want to spend time on yourself and for your psychophysical wellbeing enjoying the massages and treatments available in the health and beauty centrenear by our farmhouse ?
Are you interested in trips to the main artistic cities of Tuscany (Montalcino, Pienza and Siena among the closest) all within easy reach?
Do you wish to seek out the places chosen by the best directors as locations for the most successful films (The English Patient, The Gladiator etc.)?
Would you like to follow itineraries to discover stately ancient trees, go horse-riding along lanes you seem to recognise, because their images have been used in promotion shots?
A vacation at Fontevetriana agritourism offers all this, and more!

The farmhouse hospitality is characterised by guest seven rooms furnished with a tasteful elegance, some with a double rooms have a four-poster bed. All (except two) have en-suite bathrooms and each has a special colour scheme. The finest care has been taken in all the furnishing details.
It's possible to rent the two whole villas too.


The hammock and the rocking chairs in the garden will allow you to experience breathtaking landscapes, unforgettable sunsets, relaxing quiet, reviving flower fragrances.
During the summer you can enjoy our swimming pool.



ARCHITECTURE, ART

NEARBY
DINING & ENTERTAINMENT

NEARBY