> Home > Where to stay > Agritourism
PODERE STROZZAVOLPI
Pienza
AGRITOURISM 1 EAR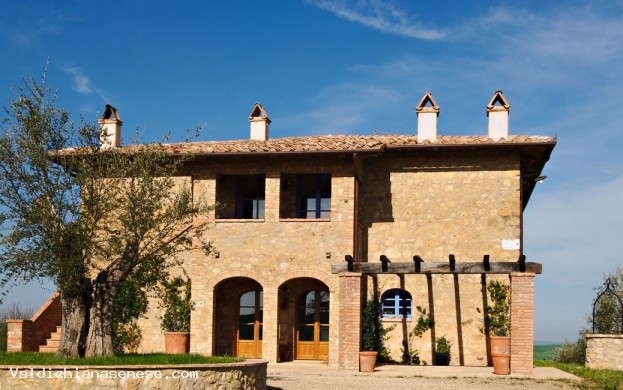 * Required field
DO YOU WANT MORE INFORMATION?

Call our Call Center at
Tel. +39 0578 748 402 - Fax

Website
www.poderestrozzavolpi.it
SERVICES
ACCETTAZIONE ANIMALI DOMESTICI
STRUCTURE DESCRIPTION

But having said this it doesn't mean you'll be sleeping perched on the branch of an oak tree! The farmhouse has five cosy rooms with a view, all with their own bathroom with shower or tub. If you want to watch the TV you'll have to bring it from home … (just joking! Although there really is no TV) but you will find plenty of books and music practically everywhere.
Each room has a refrigerator-bar, a small larder stocked with appetizers to satisfy that sudden midnight hunger, fresh fruit and red wine to taste in big glasses for a night charged with passion or romanticism (that's up to you to decide of course!).
If you'd like to go for a stroll.. the farm has 30 hectares of hills surrounded by oak woodlands and broom hedges.
The laughter of children as they run through the corn fields more than pays for the damage done (if you behave yourselves you adults can do it too!). And if it happens to rain there's a big common room with a huge fireplace.
Think of a blazing fire..a large window facing the hills and vineyards... a divan... a great book.. a cat to stroke on your knees (if you haven't got your own you can borrow one of ours). "Isidoro" opens its arms to pets but would prefer it if you left cat eating dogs and crocodiles at home (you just don't know these days.. it's better to be safe than sorry).
Even horses are welcome, we probably won't let them in the bedroom but there are stables, a paddock and organic hay that we produce.
You'll find all this at Pienza, an enchanting Medieval town in the heart of Val d'Orcia, declared a heritage of humanity by UNESCO.
We're easy to find .... just 2 km from the town, in amongst the hills in an isolated and peaceful spot. The surrounding countryside is of artistic, cultural, and naturalistic interest, the only one of its kind in the world. It's pleasing to lose yourself along the food and wine paths. There are numerous "wine roads" and the Tuscany cuisine satisfies all palates (and you don't have to worry about the "after" of your stops in all the wineries – I'll find you and bring you back!).
I certainly don't want you spending your holidays reading about all the wonderful things here so I'm going to say no more... I have tried to convey with poetry the soul of the place where I live and now it's up to you, if you so choose, to open your senses and enjoy the show.
ARCHITECTURE, ART

NEARBY
DINING & ENTERTAINMENT

NEARBY