> Home > Where to stay > Agritourism
PODERE CASELLINA
Pienza
AGRITOURISM 2 EARS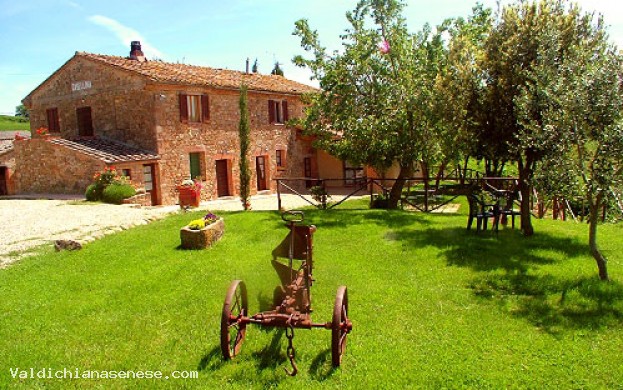 SERVICES
ACCETTAZIONE ANIMALI DOMESTICI
STRUCTURE DESCRIPTION

Farmhouse La Casellina is situated in panoramic view, at 1 Km from Monticchiello's medieval town, famous for the Teatro Povero, a show devised, written and realized for Monticchiello's people each year between July and August.
The Farmhouse is managed for the owners.
At a stone's throw from Monticchiello, and just seven kilometres from Pienza, the farmhouse bed-and-breakfast "La Casellina" is situated in the Val d'Orcia - an area of outstanding natural beauty, designated by UNESCO as a natural and artistic reserve.
Guests at the farmhouse can enjoy a beautiful view across the hills, with winding cyprus-lined roads that have been made famous by their appearance in numerous films and television commercials.
The house dates from the beginning of the nineteenth century. It is built entirely of local stone and consists of two appartments, each of about 50 square metres.
Each appartment contains a bedroom, a sitting room with kitchen area, a bathroom with a shower and a living area with a rustic Tuscan fireplace, used for breakfast.
The appartments have been restored in the Tuscan style, and the furniture comes from local antique dealers.
The garden offers an ideal location for enjoying the panoramic view, which is particularly memorable at sunset. The farm generates a wide variety of produce, from poultry and rabbits to cattle (of the 'Chinina' breed), as well as organically grown crops. A vegetable garden is available for our guests, should they wish to pick seasonal vegetables.
The small medieval village of Monticchiello is less than a kilometre away, while a ten-minute drive takes you to towns such as Pienza, Bagno Vignoni (with its hot baths), Montepulciano and Montalcino - places that are renowned for their artistic treasures as much as for their natural and architectural beauty.
ARCHITECTURE, ART

NEARBY
DINING & ENTERTAINMENT

NEARBY