> Home > Where to stay > Agritourism
PALAZZO BELLO-PODERE CHIETENO
Cetona
AGRITOURISM 2 EARS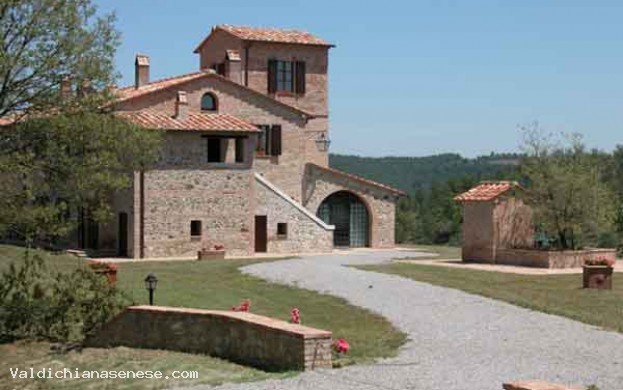 * Required field
DO YOU WANT MORE INFORMATION?

Call our Call Center at
Tel. 360 984315 - Fax

Website
www.traveltoscana.com
SERVICES
RISCALDAMENTO INVERNALE
PARCO O GIARDINO
STRUCTURE DESCRIPTION



"Chieteno" is a beautiful Tuscan Villa, carefully restored, with a private pool (14m x 7m), located on the hilltop with an enchanting panoramic view over the beautiful Tuscan landscape only 4 km from the village of Cetona.
The farmhouse, situated on a 180 hectare farm, not far from "Palazzo Bello", has a private swimming-pool (14 m x 7 m) and is surrounded by beautiful gardens. "Chieteno" is divided into 6 typical Tuscan apartments all with fire-place, terracotta floors and beamed ceilings. They are tastefully furnished and contain all the modern conveniences. The different sized apartments, all with independent entrance, have equipped kitchen , central heating, TV-Sat , Parking and barbecue.
The farmhouse"Chieteno" can be rented also as an independent Villa and in this case ,on the ground floor there is a spacious lounge (80 sq.m.) and an equipped kitchen that can be used as a common area for groups renting the whole farmhouse , ideal to organize parties, meetings courses, etc. (only on request)
The apartment "Archi" (6+1 persons) -140 sq.m.- is a beautiful apartment with a spacious living-room with 4 archways wich have become large, panoramic windows .
The two ground-floor apartments ("Archi" and "Chieteno 1") may be joined to become a roomy apartment up to 8 – 10 persons.
"Torretta" (4+1 persons) – 90 sq.m. - is a very characteristic apartment; from the first floor a spiral staircase opens up into a bedroom with windows on all sides overlooking the valley.
"Panorama" (4+2 persons) – 110 sq.m – is a very comfortable apartment with a spacious living-room and a very panoramic view from three sides of the house.
The apartments "Chieteno 1" (2+2 persons) , "Chieteno 2" and "Chieteno 3" (2+1 persons) – 40 sq.m. –have the same style of the bigger onces and are lovely.
ARCHITECTURE, ART

NEARBY
DINING & ENTERTAINMENT

NEARBY