> Home > What to visit > Archaeological Sites
Necropoli etrusca di Tolle
Chianciano Terme
ARCHAEOLOGICAL SITES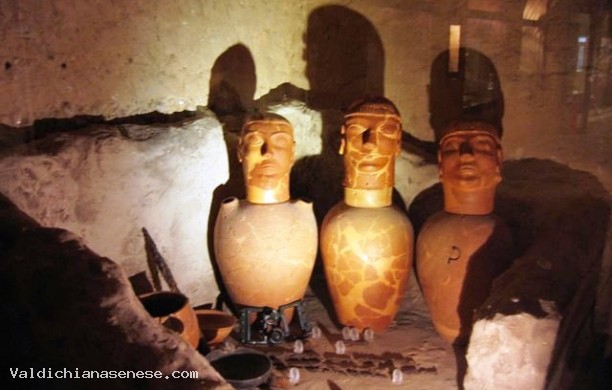 PHONE NUMBERS AND TIMES

Necropoli etrusca di Tolle


Business card (vCard)
At La Foce, leaning on the side facing the Val d'Orcia, is the large Etruscan necropolis of Tolle. Already known in 1800 thanks to the excavations of Leo Honeys, then owner of the land concerned, was up to the eighties of last century the subject of looting by tomb raiders.

Since 1996 the local Archaeological ll'Associazione undertook a systematic series of excavations conducted by Dr. Giulio Paolucci, director of the Archaeological Museum of Chianciano Terme. The excavations have led to the discovery of more than 400 tombs of various types: the majority are small chamber tombs, or depressions in which you placed a clay pot, "jar", containing the ashes of the deceased and the funeral , mostly consisting of ceramic pots and mixing bucchero, a third type, much rarer, is represented by graves where the dead body was buried.

The tombs have yielded a significant number of finds from the grave representatives of the deceased. If you exclude some graves where the preserved body was buried the dead, the tombs consist of a majority of the ciu cremated ashes were placed in special vessels called urns, traditional urns are vessels in the area called "canopic". The particularity of the canopy is given by the fact that they were molded according to the features of the deceased human.
STAY

NEARBY
DINING & ENTERTAINMENT

NEARBY