> Home > Where to stay > Agritourism
CASALPRATO
Pienza
AGRITOURISM 1 EAR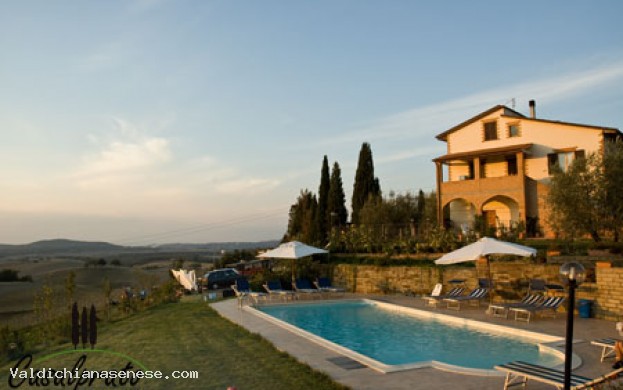 SERVICES
ACCETTAZIONE ANIMALI DOMESTICI
PISCINA SCOPERTA
ANIMAZIONE
STRUCTURE DESCRIPTION

The Casalprato Agritourism farmhouse is one small managed agricultural company to familiar conduction, situated in the heart of one of the most beautiful landscapes of Italy and the Tuscany: the val d'Orcia.

Build from a completely restructured old farmhouse, the Casalprato Agritourism offers beyond to the directly collected native products from the adjacent fields, an optimal position for who wants to visit the val d'Orcia, because situated only few hundreds of meters from the center of Pienza and therefore close to the greater tourist points of interest of they goes.

The sweetness of our greens hills, the relaxant and calm atmosphere and of the place, the warm hospitality of the owners, will render sure pleasant and only your stay, inducing to you then to return. Our products cultivate you as once they have the taste of the nature and the air that is breathed only here, for this if you want to eat in table with Casalprato's Familiy, we will give you a visit of the place also under the great Italian cooking profile.


ARCHITECTURE, ART

NEARBY
DINING & ENTERTAINMENT

NEARBY