> Home > Where to stay > Hotels
BOSTON
Chianciano Terme
HOTELS 4 STARS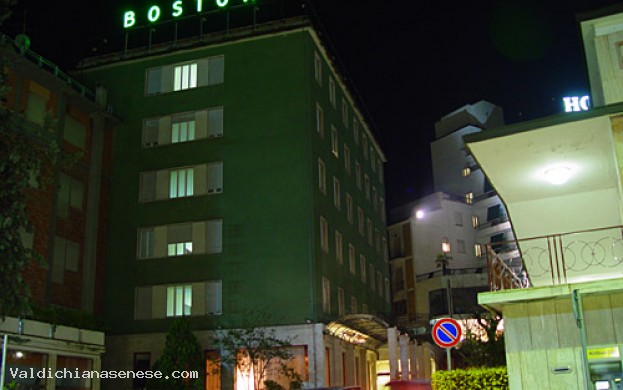 * Required field
DO YOU WANT MORE INFORMATION?
Call our Call Center at

Tel. 0578 63472 - Fax 0578 60218

We will be happy to help you better organize your stay!
SERVICES
ANIMAZIONE
RISTORANTE
CASSAFORTE O CASSETTE DI SICUREZZA
ARIA CONDIZIONATA
RISCALDAMENTO INVERNALE
SALA RIUNIONI
ASCIUGA CAPELLI
OSTERIA E/O BAR
SALA RITROVO E/O TV
STRUCTURE DESCRIPTION

L' albergo è posizionato nel centro nevralgico di Chianciano, a pochi passi dal Centro di Cure Termali "Acquasanta" e dallo stabilimento "Sillene" attrezzato per le più moderne Cure Estetiche, dedicate al "Wellbeing" ed al "Body Care".

Posizionato direttamente su Piazza Italia, nel cuore dell'area "shopping", l'albergo dispone di 104 camere, tutte con servizi privati, TV, Telefono ed Aria condizionata.

A disposizione della Clientela , il ristorante "Lafayette" con oltre 200 coperti, l'Adams Bar, il Buvette Bar, il Giardino, le Sale Riunioni fino a 150 persone e lo splendido Roof Garden con Grill e Bar, nello spettacolare scenario della Valldichiana.

Considerando, sia la versatilità della struttura, che la posizione strategica dal punto di vista Turistico e Culturale, il Grand Hotel Boston si propone quale strumento ideale per accogliere la diversa tipologia di Clientela che sceglierà Chianciano quale meta per Soggiorni Termali, Convegni, Congressi, Week End enogastronomici, soggiorni relax e vacanze in genere, in tutte le stagioni dell'anno.
WHAT TO VISIT

NEARBY
DINING & ENTERTAINMENT

NEARBY