> Home > Where to stay > Agritourism
AZ. AGR. SANTA MARIA
Pienza
AGRITOURISM 2 EARS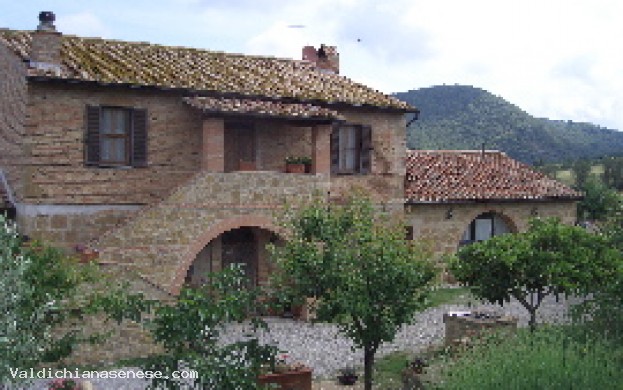 * Required field
DO YOU WANT MORE INFORMATION?

Call our Call Center at
Tel. 0578 755080 - Fax 0578 755080

Website
www.santamariapienza.it
SERVICES
ACCETTAZIONE ANIMALI DOMESTICI
PISCINA SCOPERTA
ANIMAZIONE
STRUCTURE DESCRIPTION

Our farm-house goes back to the thirties and is made of local stone and the brick. It is situated between Pienza and Monticchiello in the Natural Artistic and Cultural Park of Valdorcia, recently part of UNESCO, world heritage of Humanity. We restored our house bit by bit and we have given the farm a special quality by producing cereal (with the certification Agriqualità) oil, pasta, saffron and jams. The work we carry out, both from an agricoltural and receptive point of veiw is done personally and we try to keep local traditions alive. Our guests can stay in an apartment (La Loggia) made up of a double bedroom, a bathroom, a living room with fireplace and a kitchen corner; or with two double bedrooms: La Vigna and L'Olivo, both with private entrances but with a common living area. The house is surrounded by a large garden with a ping-pong table, football area, basket-ball net and a swimming pool.
You may also use our mountan-bikes to tour around the beautiful countryside of Valdorcia and go for walks or take part in cultural events in the environs, like in Pienza, Montepulciano, Montalcino, San Quirico or even go to the spa in Bagno Vignoni and San Filippo. We also breed farm animals. On the ground floor, right next to our accomodation section you can find our kitchen where we would be delighted to organize special dinners for you, all prepared with our home-grown products.
We offer towels and sheets, wood for the fireplace and a hair-drier for every bathroom. Also, there is satellite TV and a fridge in every room. All rooms avail of air-conditioning and heaters. For those staying for periods over one week the change of bed linen is included in the price. During your stay you may pick and eat our home grown vegetables.
ARCHITECTURE, ART

NEARBY
DINING & ENTERTAINMENT

NEARBY