> Home > What to visit > Old Town
Petroio
Trequanda
OLD TOWN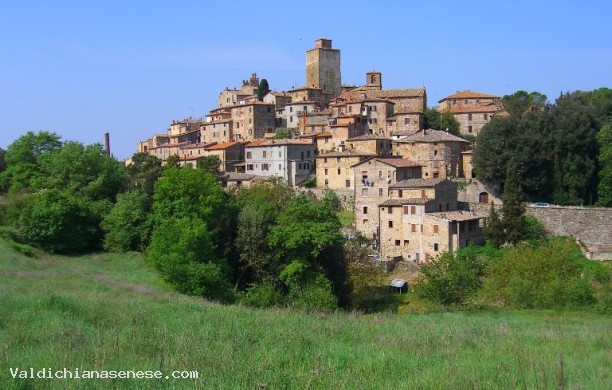 The picturesque medieval village perched on a hill wraps itself in a spiral around a single ancient road. The remains of the old walls, the ancient houses and palaces, the churches, the stairways that climb up to the top of the tower and the houses, have preserved Petroio's warm blond color of the sandstone with which it was entirely built over time.

Its origin is Etruscan as the name, deriving from the ancient Petruni, and the archaeological finds found in the area testify. In the oldest documents it appears with the name of "Castro Pretorio". In a consistorial bull of the Camaldolese annals of 1180, he was named as Praetorium.

Also Petroio was, together with Trequanda, one of the possessions of the Cacciaconti della Scialenga, lords and masters of Asciano, but then subjected to the authority of the Republic of Siena. The Borgo became a fiefdom, first by the Salimbeni in the late 14th century and then by the Piccolomini Bandini. At the fall of the Republic of Siena it passed under the Grand Duchy of Tuscany.

If you look out from the wall that runs alongside the road, on the left before entering the country, you can see the small Church of Sant'Andrea below, home of the ancient Hospital. While, of the access door remains a cross carved by the Templars and of the ancient city walls, some towers lowered.

Continuing the journey, after the terracotta factory with the old chimney, there is the Romanesque Church of San Giorgio, the oldest in Petroio, which houses 17th and 18th century paintings.
Then we arrive at the rigorous Palazzo Pretorio, now home to the Terracotta Museum. On the homonymous square there is the Church of SS. Pietro and Paolo, which houses an oil painting by the Sienese painter Rutilio Manetti depicting the Ascension and a valuable canvas by the painter Taddeo di Bartolo concerning the Madonna and Child.
The spiral road ends at the top of the village, in front of the Civic Tower, built with large squared blocks of tuff, and the 12th century Cassero, home of the Cacciaconti.
At the end of the staircase leading to the Cassero, there is the small terracotta statue of Bartolomeo Garosi known as the Brandano, a famous and eccentric medieval preacher.
The town is characterized by the ornamental use of the original terracotta artefacts, still produced by local craftsmen. The view from the village is very beautiful, overlooking the landscape of woods, vineyards, fields and rows of cypresses.
The profiles of Pienza, Montalcino and Amiata can be seen against the background of the landscape, visible from the panoramic road that leads from Petroio to Castelmuzio, along the
STAY

NEARBY
DINING & ENTERTAINMENT

NEARBY