> Home > Where to stay > Agritourism
VALCELLE
Torrita di Siena
AGRITOURISM 2 EARS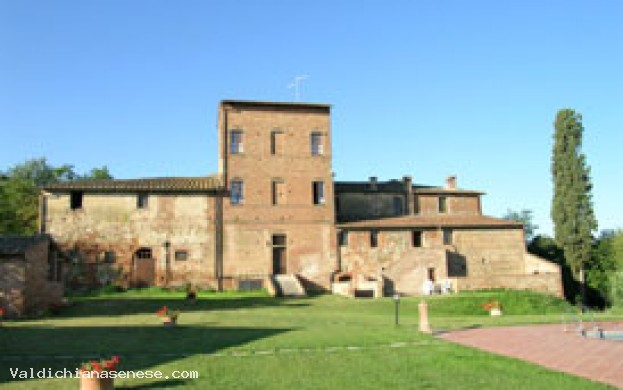 * Required field
DO YOU WANT MORE INFORMATION?
Call our Call Center at

Tel. - Fax 0577 685108

We will be happy to help you better organize your stay!
STRUCTURE DESCRIPTION

I primi documenti conosciuti con la denominazione "Valcelle" risalgono a circa il 1820 con l'iscrizione al "Catasto Leopoldino".

L'attuale conduzione risale ai primi anni novanta, da quando è stata intrapresa un'intensa opera di recupero e ripristino dell'attività agricola, senza trascurare l'aspetto paesaggistico e naturalistico. Grande attenzione è stata posta anche alla ristrutturazione degli edifici costituenti l'antico borgo delle Valcelle: rappresentato dalla Villa, dalla Fattoria e dalla Casa Padronale, ponendo così le basi per l'inizio dell'attività agrituristica.

La ristrutturazione è stata eseguita rispettando la tipologia tipica dell'architettura toscana del XVIII/XIX secolo, al fine di mantenere l'originale atmosfera della vita contadina.

L'azienda attualmente si estende per circa 60 ettari di terreno, coltivati prevalentemente a vigneto, oliveto (dal quale si ottiene un ottimo olio d'oliva extravergine igp toscano) ed essenze arboree da legno (noce, ciliegio, roverella, ontano, ed acero). Sulla cima del "poggio", in posizione dominante, sorgono la villa padronale, l'antica casa colonica e gli altri edifici aziendali.

I proprietari sono a disposizione degli ospiti per qualsiasi necessità e per fornire un' accoglienza calda e premurosa. Gli ospiti hanno la possibilità di soggiornare con semplicità e tranquillità, trascorrendo una vacanza in ambienti saturi di storie e tradizioni, natura ed arte, gastronomia e folklore.
WHAT TO VISIT

NEARBY
DINING & ENTERTAINMENT

NEARBY