> Home > >
005 Tarsia pavimentale della navata destra - Sibilla Persica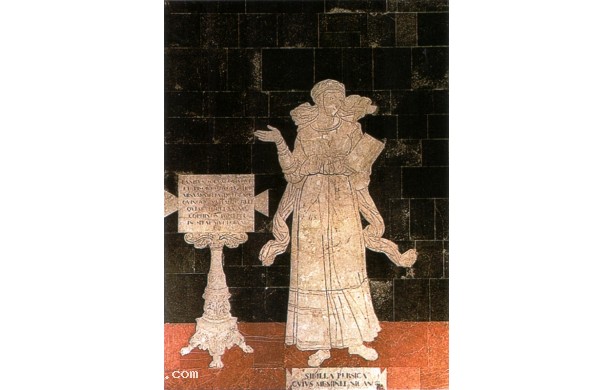 Artist: Benvenuto di Giovanni
Year: 1483
Current location: Cattedrale di Santa Maria Assunta
Original location: Cattedrale di Santa Maria Assunta

DESCRIPTIVE INFORMATION
The last of the sibyls of the right aisle is the only series to have been carried out in 1483: October 3 Urbano da Cortona was paid for the cardboard. Being located at the front door of the tower suffered much wear and was largely rebuilt in the eighteenth and nineteenth centuries. It is represented as a pleasant middle-aged woman, her head wrapped in a simple veil and dress with fluttering veils. In his left hand holding a book in his right hand and draws attention to a table resting on a lectern with a triangular base. Bears the inscription: panibus solum quinque et piscibus duobus hominum Millia in foeno quinque satiabit reliquias tollens xii cophinos implebit in spem multorum ("With five loaves and two fish will satisfy the hunger of five thousand men on the grass. Picking up the scraps filled twelve baskets for the hope of many "), which alludes to the multiplication of the loaves and fishes. The prophecy attributed is the only one that does not deal with the birth or the redemption of Christ. Beneath his feet, a table informs you that Nicarone to give witness to her. Enzo Carli, based on similarities with the Sibilla Albunea, suggested that the design has contributed Benvenuto di Giovanni.
005 Tarsia pavimentale della navata destra - Sibilla Persica