> Home > >
Deposizione di Cristo dalla Croce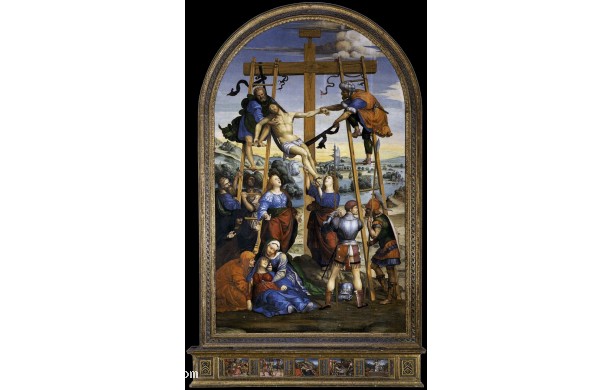 Artist: Sodoma
Year: 1500 - 1515
Current location: Pinacoteca Nazionale

DESCRIPTIVE INFORMATION


After being in Rome in 1508, the Veronese painter (but Sienese of adoption) Giovanni Antonio Bazzi called Sodoma, would have changed his style quite sharply: this is because in Rome he knew Raffaello's art, which he mitigated to I soda all that primitiveness that had characterized her earlier achievements and that stemmed from the passion for the art of Luca Signorelli.

The Deposition of 1510, preserved at the National Picture Gallery in Siena, is one of Giovanni Antonio Bazzi's most well-known works, inspired directly by the Deposition initiated by Filippino Lippi and finished by Perugino and now at the Uffizi Gallery: the composition is almost identical, even the ribbons with which Joseph of Arimathea and Nicodemus lay Christ's body are almost the same as appear in the work preserved at the Uffizi.

Below, note the surrender of the moods with the Madonna who suffers, overcome by the pain, and is assisted by the pious women, while two soldiers (curiously one with modern armor and the other with armor by ancient Roman to witness the great interest that Sodom had for classical antiquity, though not very obvious here) observe the whole scene.

Source:
https://www.finestresullarte.info/operadelgiorno/2013/85-giovanni-antonio-bazzi-detto-il-sodoma-deposizione.php
Deposizione di Cristo dalla Croce