> Home > Where to stay > Hotels
ROBERTA
Sarteano
HOTELS 3 STARS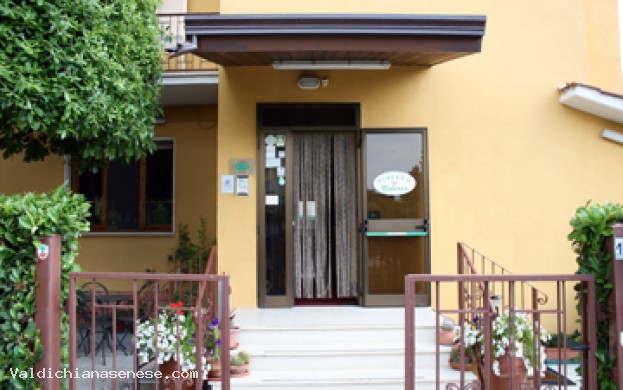 * Required field
DO YOU WANT MORE INFORMATION?

Call our Call Center at
Tel. 0578 265636 - Fax 0578 265636

Website
www.albergoroberta.it
SERVICES
ACCESSIBILITA PORTATORI HANDICAP
ACCETTAZIONE ANIMALI DOMESTICI
GIOCHI PER BAMBINI
TRASPORTO CLIENTI ALLA STAZIONE
LAVATURA E STIRATURA BIANCHERIA
RISTORANTE
COLAZIONE IN CAMERA
CASSAFORTE O CASSETTE DI SICUREZZA
ACCESSO A INTERNET
SERVIZIO FAX
DISPONIBILIT└ BICI E BYKE
RISCALDAMENTO INVERNALE
ASCIUGA CAPELLI
OSTERIA E/O BAR
SALA RITROVO E/O TV
PARCO O GIARDINO
PARCHEGGIO RISERVATO
STRUCTURE DESCRIPTION

Hotel Roberta in Sarteano the middle-ages stronghold situated in the environment to the south of Siena, in the southern part of Tuscany.
The Hotel is situated in the centre of Sarteano, a country village,which has a characteristic Mediterranean feel, with nearby olive trees, vineyards and cornfields in the sweet Tuscany hills.
The ideal location, in fact, which allows the Hotel's guests cultural, historic and culinary tradition typical of the central part of Italy.
Felice and Nadia, the owners of the Hotel, have come from the grand experience matured in a big hotel chain. They have decided to put the experience to good use, personally and directly by living in the Hotel and making a comfortable environment for their guests during their relaxed holiday moments. Great care is given also to follow traditionl culinary values, traditional of Tuscany's land.
The aroma of the genuine dishes and refined Tuscan specialities is an attraction for those who appreciate family management.
Therefore, this Hotel is wonderfully situated for an unforgettable holiday, with nearby peaceful woods for walks, and the cool of a nearby swimming pool, situated close to the Hotel.
Hotel Roberta, immersed in the green and quiet countryside is open all year round , have the possibility of receiving around 40 guests. There are 18 rooms furnished in a comfortable familiar way.
ARCHITECTURE, ART

NEARBY
DINING & ENTERTAINMENT

NEARBY