> Home > Where to stay > Agritourism
CHIARENTANA
Sarteano
AGRITOURISM 1 EAR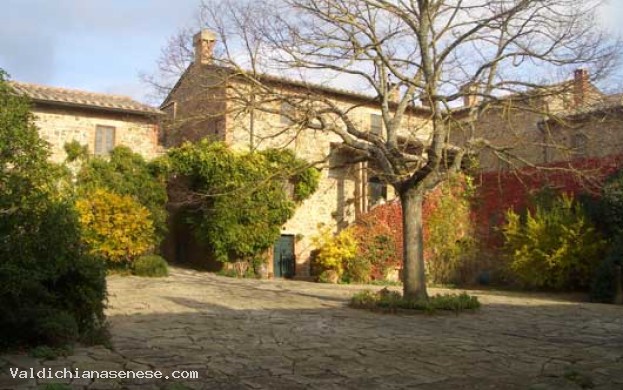 * Required field
DO YOU WANT MORE INFORMATION?

Call our Call Center at
Tel. 0578 69101 - Fax 0578 69101

Website
www.lafoce.com
SERVICES
CAMPO DA TENNIS
PISCINA SCOPERTA
STRUCTURE DESCRIPTION

In the middle ages Chiarentana was a small castle where pilgrims would stop on their way to Rome. A singular statue of laws was drawn up in Chiarentana listing rules and punishments for different practices, including fines for violence, adultery and rape, in the 14th century. The fortress then degraded to become a large farm where more than twenty families and their livestock lived until the mid '50s.
Chiarentana was recently restored by Donata Origo who lives in a corner of this square building built around a large central courtyard lined with climbing roses, clematis, cyanothus, traditional Tuscan irises and rosemary bushes, while olea fragrans, rincospermum, calicanthus and lavender spread their fragrance in different seasons. A great linden tree in the middle of the courtyard provides shade and, when in flower, fills the air with its heady scent.
From the courtyard staircases lead to each apartment: Beco, Bersagliere, Fonte, Ronda, Tiglio, Vespa: these were the living quarters of the different peasant families, while the ground floor was used to keep livestock and store grain. The apartments have been carefully restored to maintain the old terracotta floors and wooden beams. Each one reflects the combined charm of antique furniture and modern fittings. The walls are washed in a light terracotta colour; an open fireplace makes each house warm and welcoming.
The open garden around the house blends into the natural landscape of the Val d'Orcia. Rows of olive trees and lavender lead to open fields and the view spreading over the valley and the Monte Amiata. The hills behind the house are wooded and full of wildlife. A tennis court and swimming pool are tucked away and share the extensive view. During the summer months tables and deck chairs are set in the shade in secluded spots, and barbecues provided for outdoor meals.
A dining room and professional kitchen have recently been opened. Gourmet Tuscan meals with home-made pasta, seasonal ingredients from the vegetable garden or the countryside and woods, as well as fruit from the trees in the garden, are prepared on guests' request. These can be taken in the shade of the linden tree in the courtyard, or in the large dining room with a fireplace during the colder months.
This makes Chiarentana the ideal setting for the celebration of special birthdays, family reunions and smaller events.
Many lovely walks and mountain bike trails start from Chiarentana, up into the wooded hills, or down to the clay hillocks which make up the unique landscape of the Val d'Orcia.
Children are especially welcome at Chiarentana. At the far end of the garden there is a playground for the smaller children and a trampoline. A tennis teacher is available on request, and riding lessons and hacks can be arranged.
There is a central laundry for all the apartments and heating for the colder months. Additional help and cooking are available..
ARCHITECTURE, ART

NEARBY
DINING & ENTERTAINMENT

NEARBY