> Home > What to visit > Fountains
Pozzo dei Grifi e dei Leoni
Montepulciano
FOUNTAINS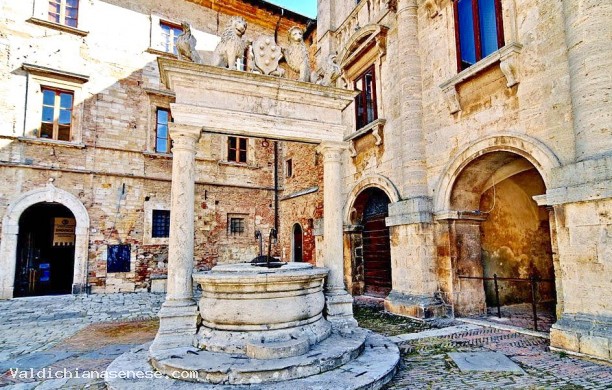 PHONE NUMBERS AND TIMES

Pozzo dei Grifi e dei Leoni


Business card (vCard)
The well is situated next to the Noble-Tarugi Palace and characterized by circular and strong moldings similar to big bulls. Ornice has a contoured crown and strongly protruding.
The circular cover plate is made of travertine, the center of which rise two short portacarrucola arms; the pulleys are located in correspondence of two circular holes covered by a metal grate. Flanked by two Doric-style columns whose capitals are decorated at the base of small flowers. At the center of the architrave resting on the columns, there is a small coat of arms, below which shows the dates of construction and renovation: 1520 and 1702.
Surmounting the lintel two lions, who support the coat of arms of the Medici family, resting on two sphinxes; their outer sides two griffins. This well, meticulous attention to detail, fits well into the context of the square.
Montepulciano, in 1520, the year of construction of the well, is under the dominion of Florence. The Captain of Justice Andrea di Martino of Philip Giachi, Florentine nobleman, who took office in June of that year. As is apparent from, the work of the well were successfully concluded thanks to a loan made by the Captain with the intent to increase their personal prestige.
In documents concerning the construction of the well, Antonio da Sangallo the Elder is never mentioned. Based on the assumption of existing documentation
attribution to Thomas Boscoli, artist of the Sangallo circle who worked in those years, the construction of the Temple of San Biagio. In the documents examined concerning the construction of the well, in fact recurs frequently the name "M. Maso" or "M. Thomas scarpellino" the same names with which the documents concerning the Temple of San Biagio is referred to Boscoli.
The sculptures on the lintel, would seem to represent: the two lions that dominates the republic of Florence, by the Medici (Medici coat of arms in the center), the City of Montepulciano (symbolized by two side griffins) .In addition the two sphinxes, on which the Medici coat of arms, should represent the arcane wisdom, decorative element very popular during the Renaissance.
STAY

NEARBY
DINING & ENTERTAINMENT

NEARBY