> Home > Where to stay > Agritourism
POGGIO DELLE ROSE
Chianciano Terme
AGRITOURISM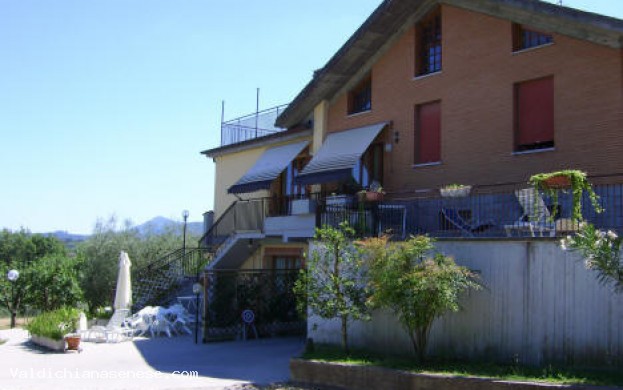 * Required field
DO YOU WANT MORE INFORMATION?

Call our Call Center at
Tel. 0578 320098 - Fax 0578 320098

Website
www.poggiodellerose.com
SERVICES
ACCESSIBILITA PORTATORI HANDICAP
ACCETTAZIONE ANIMALI DOMESTICI
TV SATELLITARE
STRUCTURE DESCRIPTION

Chianciano (Siena) 500 s.l.ms., famous thermal station of the center Italy, is typically inserted in a landscape Tuscan that alternates verdant hills, woods and small suburbs medioevali. The tourist can find you, therefore, not only rest but also splendid occasions of relaxation making trips and excursions in the most suggestive places in Tuscany (Montepulciano to 7 Kms., Pienza to 20 Kms.) and of near Umbria.
To Km. 1 from the historical center of Chianciano and to Km. 2 from the Park Water Saint and from the Park Fucoli, finds Knoll of the Rose. Knoll of the Rose is a house vacations in country surrounded by a park of 5.000 meters, partly cultivated to ulivi, and it enjoys of a stupendous panoramic sight on the Tuscan country.
It prepares, over of the residence of the owners that you/they live on the place, of three apartments (available the whole year) with independent entries directly on the park and autonomous fittings.
Every apartment prepares of: I sojourn with angle cooking equipped, TV color with receipt satellitare, telephone, schedule heating, dish and laundry with weekly change.
One of the apartments have a bath equipped for being able to entertain people bearers of handicapp.
Animals are admitted.
ARCHITECTURE, ART

NEARBY
DINING & ENTERTAINMENT

NEARBY