> Home > Where to stay > Agritourism
TERRE DI NANO
Pienza
AGRITOURISM 2 EARS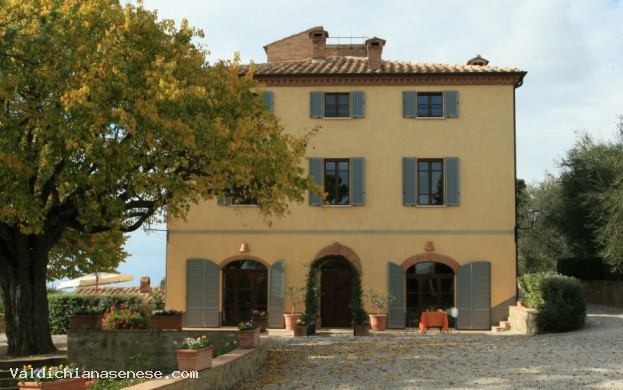 * Required field
DO YOU WANT MORE INFORMATION?

Call our Call Center at
Tel. 0578 755265 - Fax 0578 755742

Website
www.terredinano.com
SERVICES
PISCINA SCOPERTA
STRUCTURE DESCRIPTION

Welcome to Terre di Nano, a country villa in southern Tuscany's Val d'Orcia
Terre di Nano is a 19th century country estate surrounded by vineyards, olive groves, rolling hills and woods, which offers spacious charming accommodations in one of the most desirable areas of southern Tuscany. It is situated in the province of Siena in the peaceful heart of Val d'Orcia, a splendid area which officially became part of UNESCO patrimony in 2004.
At 500m altitude, the estate sits on a hilltop overlooking the jewels of Tuscan medieval and renaissance architecture: Montepulciano, Pienza, and the hamlet of Monticchiello. The views spread out over the valleys of Val di Chiana, Monte Amiata and Val d'Orcia, where the historic little towns of San Quirico, Rocca, Castiglione, Bagno Vignoni, Montalcino, Montefolloncio and Buonconvento are nestled in the landscape.
Immersed in one of Italy's superior areas of viniculture, the vineyards of Terre di Nano border the region where Vino Nobile di Montepulciano is produced, and the estate is less than 20 minutes from the world-renown Brunello di Montalcino vineyards.
There are a plethora of options for excursions and day trips in the surrounding area. The Tuscan towns of Siena, Arezzo, and Montalcino, and the Umbrian towns of Perugia, Assisi, and Orvieto are less than one hour from Terre di Nano by car, while Monticchiello, Pienza, and Montepulciano are all less than 10km from our estate.
The airports of Rome, Pisa, and Florence are approximately 1.5 hours away. Onsite services include a small restaurant where we serve local specialty dishes, wine tours, cooking classes, wireless internet, and the use of the swimming pool and bicycles.

ARCHITECTURE, ART

NEARBY
DINING & ENTERTAINMENT

NEARBY