> Home > Where to stay > Agritourism
FONTE BERTUSI
Pienza
AGRITOURISM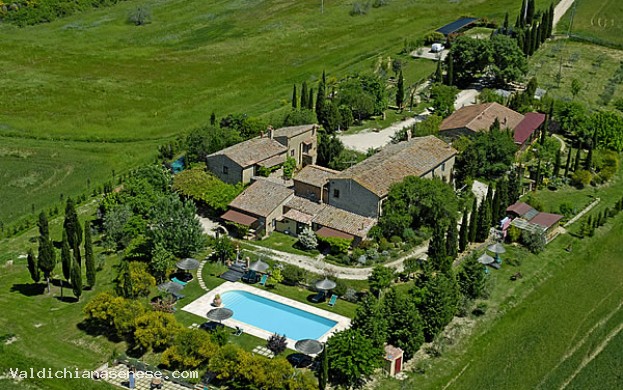 * Required field
DO YOU WANT MORE INFORMATION?

Call our Call Center at
Tel. 0578 748077 - Fax 0578 748077

Website
www.fontebertusi.it
STRUCTURE DESCRIPTION

Imagine an ancient Tuscan farmhouse immersed in a breathtaking valley, imagine that you have traveled back in time, and think of moments of absolute relaxation, where the flavor of the past is combined with the skillful professionalism of an organization with years of experience: Fonte Bertusi is everything you have been imagining. Fonte Bertusi was one of the first facilities to offer "green" vacations in the Val d'Orcia. An 18th-century farmhouse surrounded by the Crete Senesi offers its guests apartments, a Massage Center, breakfast service and an outdoor swimming pool. The owners are a family of artists who have given one various light to every angle of the property. But it is the nature, remained unchanged from centuries, to being the true protagonist. One perfect combination between nature, art and history.Fonte Bertusi was a pioneer in the concept of "green" (ecological) holidays in the Val d'Orcia. The activity was established in 1991 by the Pisano family and since then they've been offering warm hospitality in a unique environment; at one with nature, with history, beauty and art. Life here somehow eludes time.
The name of the building derives from the latin fons pertusi meaning "turgid spring" and this ancient natural spring, still present not far from the home, was certainly decisive in its inception, centuries ago. The land is fertile, rich in plant-life, populated since the Etruscan/Roman era. Near the building the water collects in a splendid little lake. These grounds are evocative; lunar; lyrical; a locus amoenus, very pleasant place indeed.
Fonte Bertusi was founded as a place devoted to restoration and the actual proprietors continue in that tradition.
The ancient podere, or farmhouse, was built in the 1700's, its robust stone structure has been carefully restored so as to conserve the flavour and atmosphere of the past. Every detail is attentively considered, all the furniture are authentic old, country style.
The windows frame masterpieces of sunlight and colour and the other works of art, man-made this time, cast a more intimate, lunar light in the rooms they grace. In fact, Fonte Bertusi is home to the extraordinary collection of art by Eduardo Pisano and his son Andrea; this eclectic art gallery lives in symbiosis with the hospitality activity of Fonte Bertusi and is continually re-newed with the changing light and seasons, a far cry from dusty modern art museums.
ARCHITECTURE, ART

NEARBY
DINING & ENTERTAINMENT

NEARBY