> Home > Where to stay > Agritourism
PALAZZO BANDINO
Chianciano Terme
AGRITOURISM 3 EARS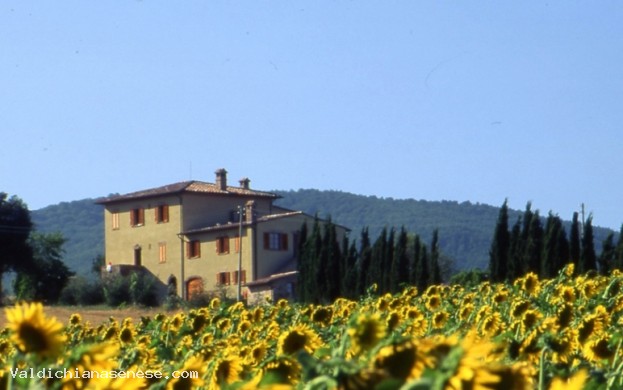 * Required field
DO YOU WANT MORE INFORMATION?

Call our Call Center at
Tel. 0578-61199 - Fax 0578-62021

Website
www.valerianigroup.com
SERVICES
ACCETTAZIONE ANIMALI DOMESTICI
DEGUSTAZIONE PRODOTTI AZIENDALI
PISCINA SCOPERTA
RISTORANTE
CASSAFORTE O CASSETTE DI SICUREZZA
ACCESSO A INTERNET
SERVIZIO FAX
ARIA CONDIZIONATA
DISPONIBILIT└ BICI E BYKE
TV SATELLITARE
RISCALDAMENTO INVERNALE
STRUCTURE DESCRIPTION

The farmhouse located in Chianciano Terme a Spa Town rich in curative hot mineral waters offers all the
comfort to be expected in a spa resort. It is also short way from the most beautiful town of the medieval and the
renaissance of the province of Siena.
The farmhouse dating back to the 1600 has been restructured in its old architectural style using original materials It includes 10 hectares of DOCG vineyards, a cellar where our best wine ages in special oak barrels. A garden which is cultivated with biological standards is at disposal of our guests. 1000 olive trees they produce the most genuine extra virgin olive oil.
Palazzo Bandino is furnished throughout with period items which have been faithfully restored and created by local craftsmen and fit in well with the spirit of the house that was once a monastery.
Inside the main house and the cottages that surrounded it you will find 9 comfortable apartments with living room , kitchen, one or more bedrooms with bath room .
You also find 3 classic rooms.
All the typology are provided with mini bar, telephone, safe , TV sat air conditioning.
In the garden that open the view on the country it is situated the swimming pool and a open- air fire placewhere on request our chef you will prepares delicious light lunch and romantic dinner under the stars.
The ground floor offers large communal areas at guests disposal .
The accommodation is in self catering accommodation or B&B with buffet breakfast

For your stay you can also choose the other structures situated only 15 min. from Palazzo Bandino:


Farmhouse Le Colombelline at Montepulciano has got 8 apartments furnished following the criteria of the ecology. Outside the garden and the swimming-pool, mountain bike. The farmhouse is located between Montepulciano and Pienza, in an open-air space with a wonderful natural landscape and is 3 km far from other houses. It's perfect for people they really loves nature and relax.
ARCHITECTURE, ART

NEARBY
DINING & ENTERTAINMENT

NEARBY