> Home > >
Croce dipinta
Sinalunga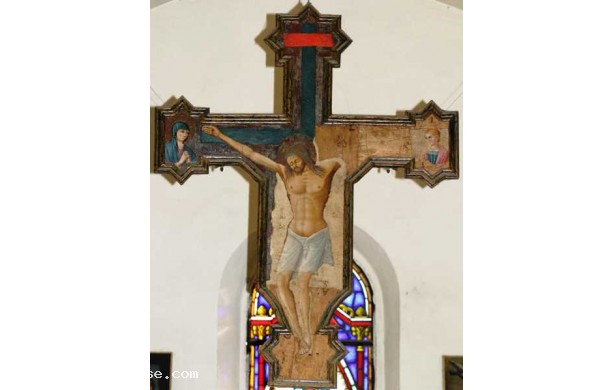 Artist: Pietro di Giovanni d'Ambrogio
Current location: Pieve di San Pietro ad Mensulas
Original location: Pieve di San Pietro ad Mensulas

DESCRIPTIVE INFORMATION
Cross painted in tempera on wood 191x146 cm currently located above the high altar of the church of San Pietro ad Mensula, probable place of the original location. The work which had been disfigured by an older restoration that had spared only the flesh tones of the faces that revealed the high quality of dipinto.è was restored in 1995 the Cross, even after the restoration is very fragmented: missing left arm of the Crucified and almost all of the decoration of the bottom. Despite the fragmentary nature of the sacred image, the work is an extraordinary testimony to the artistic expression of Pietro di Giovanni d'Ambrogio. The foreshortening of the arm and made ​​wise and right hand, the chiaroscuro thick, thin brushstrokes to the refined execution of the modeled and the suffering face, dug out of the shadows, living with the strong styling of the stomach and ribs, and the folds abstract and cadence of the drapery. The face pointed and marked by the large eyes of the Virgin recalls the female figurines Vecchietta nell'Arliquiera for the sacristy of the Hospital (1445 approximately), in whose company is co-worker of John Peter.
Croce dipinta