> Home > What to visit > Churches and Monasteries
Catacomba di Santa Caterina d'Alessandria
Chiusi
CHURCHES AND MONASTERIES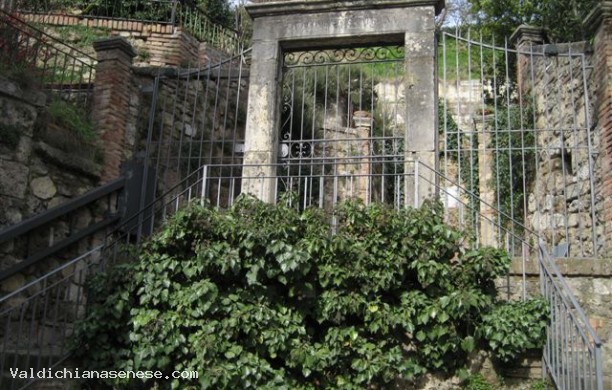 PHONE NUMBERS AND TIMES

Catacomba di Santa Caterina d'Alessandria


Business card (vCard)
The catacomb of Saint Catherine of Alexandria is located about two kilometers from the city center along the road portaal lake. It takes its name from a small chapel dedicated to St. Catherine of Wheels in fact, virgin and martyr of Alexandria, which was located in the hills above. It was discovered accidentally in 1847 during excavations of Etruscan that characterized the nineteenth century.

The types of burials, very similar to that of the catacombs of Santa Mustiola, convinced the canon Antonio Mazzetti, vicar general of the diocese of Chiusi, to drill a test excavation to determine if indeed the tombs belonged to a Christian cemetery. The search lasted until 1854 when it was restored to the old entrance. New archaeological investigations have been undertaken since 1986 by the Pontifical Commission for Sacred Archaeology. The results have allowed a more careful analysis of the entire cemetery. Originally it was to be two distinct complex underground part of a larger necropolis area that welcomed both Christian and pagan burials. Of these the first was used throughout the third century, while the second, until the late fourth century. The presence of travertine jambs of the entrance holes for the hinges of a door made to advance the hypothesis that the first group was represented by an Etruscan tomb and then expanded.

From the many funeral inscriptions reminiscent of belonging to the Gentiles and Gellia Fonteia however, seems more likely that it was created in the second century as an underground family whose members have converted to Christianity they would be made available for the burial of the brothers of the community. Inside the catacombs, in the vestibule, you can admire a beautiful travertine urn adorned with two fasces in the midst of which depicts a robed in imperial times and two columns with Corinthian capitals on either side of the altar. Among the gravestones remind Victory to Sant'Ulpia martyr. Today his body lies in the Church of St. Apollinaris in Chiusi City.
STAY

NEARBY
DINING & ENTERTAINMENT

NEARBY