> Home > Where to stay > Agritourism
Cacciamici
Sarteano
AGRITOURISM 1 EAR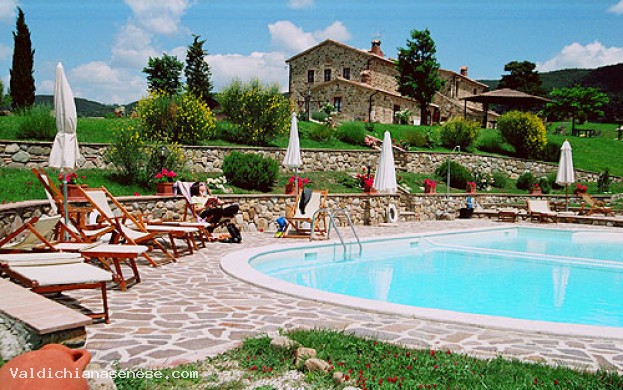 * Required field
DO YOU WANT MORE INFORMATION?

Call our Call Center at
Tel. 0578 754006 - Fax

Website
www.cacciamici.it
SERVICES
ACCESSIBILITA PORTATORI HANDICAP
ACCETTAZIONE ANIMALI DOMESTICI
DEGUSTAZIONE PRODOTTI AZIENDALI
GIOCHI PER BAMBINI
PISCINA SCOPERTA
SOMMINISTRAZIONE ALIMENTI
TREKKING
LAVATURA E STIRATURA BIANCHERIA
RISTORANTE
COLAZIONE IN CAMERA
SERVIZIO FAX
DISPONIBILIT└ BICI E BYKE
TV SATELLITARE
RISCALDAMENTO INVERNALE
OSTERIA E/O BAR
SALA RITROVO E/O TV
STRUCTURE DESCRIPTION

Farm-house Cacciamici is located in one of the most beautiful, yet less known areas of Val d'Orcia. Its location is quite particular as it is at the boundary between the Municipalities of Sarteano and Pienza, having in front the fortress of Radicofani and behind the small centre of Castiglioncello sul Trinoro, an ancient picturesque and little frequented village. In the countryside nearby you will see flocks of grazing sheep or wild animals (wild boars, roe-deers, hares) in a pure and relaxing environment.

Podere Cacciamici is part of San Piero in Campo's farm and it is directly run by the its owners: the Rappuoli brothers. We offer our guests a friendly welcoming and allow them both to assist and take part in different activities during the year such as grape, olive and cereal harvest, cereal sowing, wine preparing and "Chianina" breeding. For those who wish to experience life in the countryside, we will be looking forward to let you participate to our rural activities.
ARCHITECTURE, ART

NEARBY
DINING & ENTERTAINMENT

NEARBY